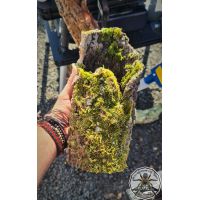 Dear customers

They are finally here!

And not just any!
Almost 2 tons of cork tubes straight from Portugal came to CFTN!
Quality? See for yourself by the photos!
I just add from myself that for so many years I have not seen THIS in my hobby!
Almost every tube is covered with various types of moss, lichen or other miracles.

Sizes ?!

Several standard already cut (also at an angle of 30 degrees for more demanding customers)
Diameters from the smallest to huge for massive Poecilotheria sp or halves for Pamphobeteus sp.

Currently, sale by weight is not available, because I have to deal with this system and find the best offer for their shipments.

Tubes are available for purchase in pieces or 2 kg of Mystery Box Cork Tubes,

in which you can find the best pieces from this 2 ton pile of happiness: D

I suggest ordering the tubes separately, with other dry materials for decoration, as Royal Mail often cannot deliver larger cartons than the standard ones with spiders on time.

What more to add
On a special order (only prior approval via e-mail, it is possible to order almost any type of cut or tube size - even 10 kg for a huge terrarium)

I will not recommend this product,

I think it will recommend itself.