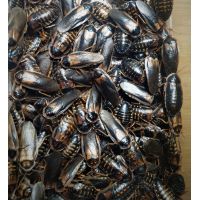 Live food 
Available in small packages and certainly higher prices than from companies that specialize in it.
However they are here!
So if you want everything in one package, go ahead :)
Available:
 Turkish cockroach (Red runners)
 Argentine Cockroach (Blaptica dubia)
 Mealworm
I can vouch for the high quality of food insects, because I've been using them for years from the same source.