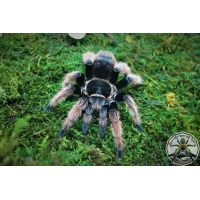 Dear UK customers

This part of the store is strictly for you.
It contains Brachypelmas and Poecilotherias sp  spiders on the CITES list
What does it mean ?

This means that without special paid licenses you cannot legally purchase these spiders from outside the UK.

Therefore, in agreement with my Ambassador  we have moved a large part of my stocks of these species to the UK as early as October and November 2020.
Purchasing these species from the remainder of the store will result in no delivery to the UK

Unfortunately, spiders in this category (CITES) cannot be mixed with others, because shipments are made from different warehouses, for which I apologize, but contrary to what a small group of people say, I strictly follow the rules, and Northern Ireland where I am together with the main warehouse, we are obliged to produce licenses and fees for each transport of CITES species to the UK, what's more, the customer as the recipient must also have an active license (which involves terrible costs, hence we decided to transfer a large amount to the territory of Great Britain). Great Britain to allow my customers to purchase these great spiders straight from the UK warehouse.

A few additional changes such as direct contact  will be added in the coming days along with specific information about placing orders.

If you want to place an order for CITES-listed spiders and from a regular store, please write to me and you will receive a special code that will slightly reduce the cost of double Royal Mail shipping.
The number of spiders in the UK warehouse is large, but if something appears in the form of out of stock, it will be possible to supplement the warehouse only when I personally receive a license for their legal import into the UK

Successful shopping.